Looks like Lil' Ugmo is getting a bit of a facelift this summer, thanks to the generosity of our sponsor, Momma D. As with all things home renovations, things spiralled. Momma D has never liked that our staircase is enclosed on both sides with walls and has no railing for her or the Big Yam to hold onto. She gave us money to have that fixed.
So, in order to get a paint-grade poplar stair railing, the wall had to come down. Since that wall was coming down, as with all things home renovations, it made sense that all the walls in the living room/dining room come down since we wanted to open up the space. Despite my frequent avowals that I don't like open concept houses, I had to compromise my morals when I saw that opening up the space would make things a little easier for the Big Yam to careen around in. I also maintained a shred of my integrity by deciding that the kitchen will always be enclosed and that I will NEVER succumb to pot lights. Taking down the walls, meant doing new floors. Doing new floors (on the downstairs) meant doing new baseboards. And the whole thing means a new coat of paint. Ai-yi-yi.
I'm envisioning the two couches facing each other. The rosewood buffet to be centred between them against the purple wall (eventually, when - if! - we ever dig down and do the basement, the living area will be a music/library and all entertainment devices will be in the basement and we'll replace the buffet with a piano) We're going to jettison the 4x4 Ikea Expedit and replace it with two 1x5 (only losing 2 squares of shelving for a slimmer profile), and the purple wall will continue the whole length. Everything else will be painted white. Except for the hallway wall, which goes all the way to the second floor. That will be grey.
Here's a little snapshot of stuff I like:
On the hallway wall, instead of the current felt ball garland, which will now be relegated to Christmas, I'm going to put up two parallel Ikea Dignetet curtain wires to display cards, art work, etc.
A console table where we I can set up a little display and where we can put keys, wallets, mail, etc. Above this, I want to hang this big, oval mirror I bought for $10 at a junk sail and my Berkeley illustration animal prints.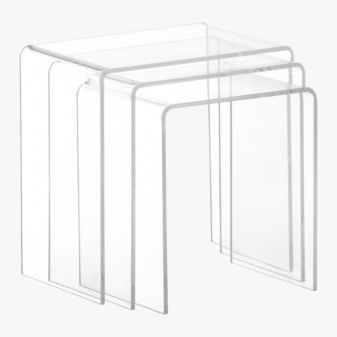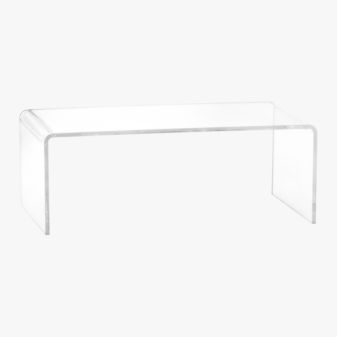 We've been in need of a coffee table for a long time. I had been thinking a teak, mid-century one, but I think with the small space we're dealing with, a clear one like the CB2 one above and the side tables would be versatile, practical, and still let the room breath.
At first I was thinking of a rug that would pick up the colour scheme for the main floor - grey, white, bright, acid yellow. Then I realized that this would be a little matchy-matchy.
I saw the above rug on the Anthropologie website and I fell in love. It picks up all the colours in the downstairs, without being too YELLOW! GREY! WHITE! about it and it leaves the door open for lots of fun accent colours. It also means that I could do a really fun, graphic, magenta runner on the stairs if I wanted. The clear coffee tables and side tables would be great here as they would still let the colours and pattern of the rug take centre stage and pop. Seriously, I LOOOOVE that rug!
We'll see how everything comes together in the end. I think we're going to go with Benjamin Moore's Coventry Grey for the hallway (or Stonington Grey). I have yet to find a runner that I really like for the stairs, but that'll be a future concern, too.
We got new baseboards for the main floor as well - 7 1/4" - really nice and tall and sharp looking. The Dotytron will be putting a coat of paint on them so they're ready to be installed by our floor guy.
Dinners have been stupendous lately - last night we had a nicoise salad with poached egg and bagna cauda:
Tonight we had Vietnamese grilled pork/turkey meatballs on top of a rice noodle salad with daikon, carrot, cucumber, mint, lettuce & home made nuoc cham: