Big epic fun-times this weekend. A *little* too much driving around doing ghey errands (why, Costco, why?) but other than that, it was really nice.
I had the morning with the Big Yam on Friday and we hung out and chilled and then met up with J and the Big Yam's homies at the park. I had a massage. I skipped out on softball to be in solidarity with the Dotytron who was helping our neighbour that we've hired to build a fence (in exchange for a break on our share of the cost), tear up the existing chain link fence. It's a good thing, because apparently the team we played on Friday was big on the smack talk and fisticuffs almost broke out. Rude fact: in any competitive sport situation in which trash talk might lead to a physical altercation - it's best if I'm not around, as I am more help (in terms of fanning the aggro flames) than hindrance.
I wait all year long for Ontario strawberries to be in season to make this fresh strawberry pie. It's divine. Recipes like this are one of the reasons I lament the ending of Gourmet magazine. So good. I brought this to a park picnic I had with my friend E last Thursday night.
Friday night's dinner was salmon burgers with tzatiki, lettuce and tomato. Tasty! We had a salad alongside.
Saturday was a fun, fun day.
#1 I made us an awesome breakfast. We got chanterelles from our CSA so I sautéed them in butter and thinly sliced CSA spring onions and we served them over scrambled eggs with breakfast sausage, toast, and an arugala salad.
#2 PINGY IS IN TOWN!!! So she came over and I loaned her a pretty slamming outfit to wear to a wedding she was going to and then we went and visited the Roomie and L'Armi and the wee babe who has a provisional first name (FINALLY) but they're still waffling on the middle name. I love me some Ping.
#3 Badminton & splash pad! SMckay and the FroYo Baron came by and brought their badminton set and we took the Big Yam to the splash pad. The Dotytron had spent all day tearing up fence posts and doing hard labour and was covered in dust and dirt and so he came with us to the park to cool down. Then he kind of went all foul owl on us, which was kind of funny, because it's the first time SMckay has seen the Dotytron in one of his "moods." Dr. Rei is well familiar with how awful it is when the Dotytron flips the switch and turns all foul owl. Basically, it's like the entire sky darkens and there's no light in the world and your ONLY GOAL becomes making the Dotytron go back to being Captain Funtimes Easy-go again and it's like the hardest and most demoralizing thing ever because he gets STUCK in his foul owl-ness pretty hardcore. Luckily, taking a shower at the splash pad helped.
#4 Lolly came over! She was at our place before we got back from the splash pad and was all like, "Sooo, I let myself in and the Dotytron said, 'I'm just getting out of the shower!' and then he put jazz on and I didn't know if that was an invitation or not." LOL x 1000000000000000! So funny. We got Burger's Priest and manged that and then went to see Snow White and the Huntsman but not before,
#5 SMckay gave the Big Yam a very Friar Tuck haircut. Which ended up being topical because now the Big Yam looked like one of the baddies in the movie:
This was also topical because SMckay gave me the gears when I accidentally cut the Boobla's hair too short and made him look all dumb & dumber:
Really though, I don't think there's anything you can do about the Boobla looking like a monk when you trim his bangs. It's just the nature of his head shape. He does still look awfully cute though:
#6 The trailer for the Les Miserables movie was one of our previews and at the opening notes of the music I raised my fist in the air and looked around...to find a completely indifferent theatre. That didn't stop Lolly, Steph and I from holding hands for the duration of the preview.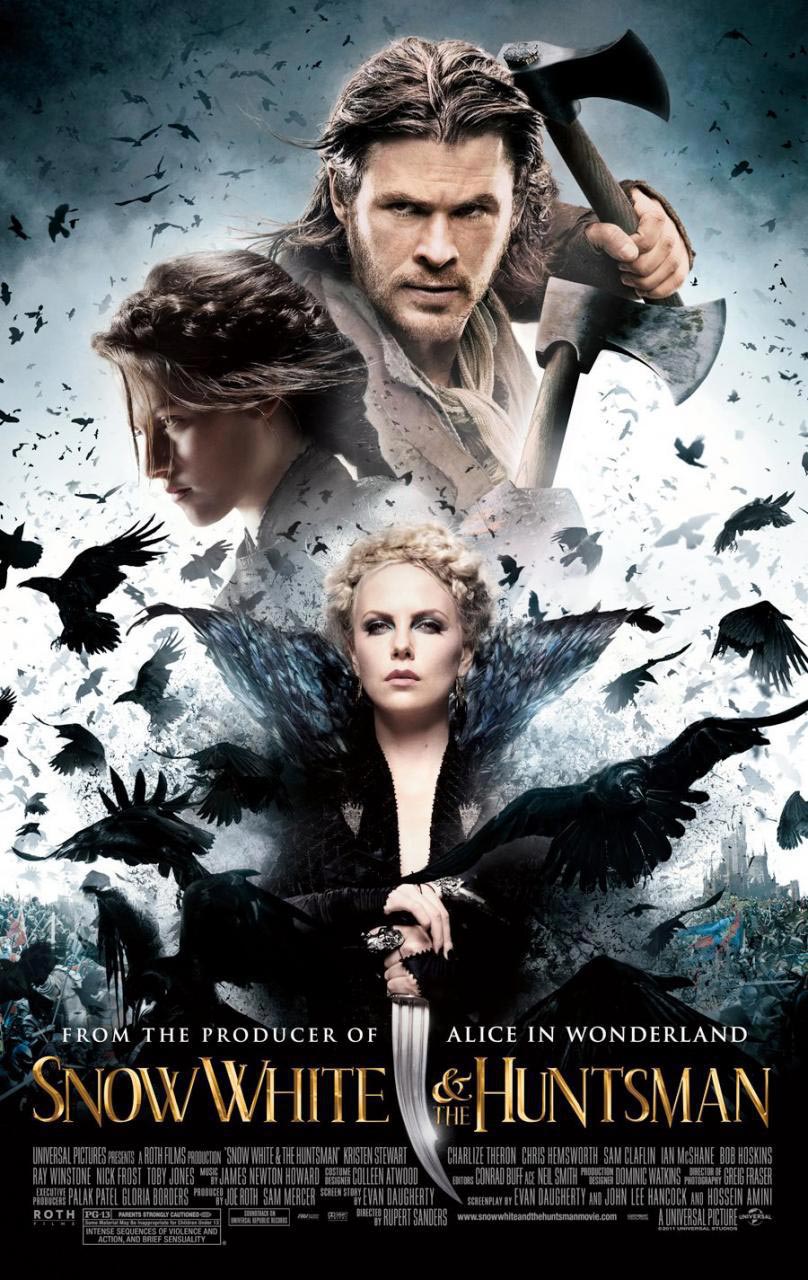 #7 The movie. This movie has been getting middling reviews, and yet I found it pretty entertaining in a high-gloss, low-narrative consistency kind of way. It's over-the-top like a slick music video and some of the imagery is fantastic. It's also got this feminist narrative (ie. what makes Charlize Theron's deliciously campy Queen Ravenna so vicious is because she was taught that men only give power to beautiful women and she learned to use their sexism against them) and Snow White isn't some maiden to be rescued, she leads the army in the charge to take the castle back. But: does it make me a bad feminist that even though I intellectually appreciated all that, I wanted a big, juicy, make out scene between Snow and her hottie huntsman, Chris Hemsworth? Chris Hemsworth is definitely the hotter of the Hemsworth bros. I'm awarding him the title because he also had the good sense to NOT propose to a 19 year old Miley Cyrus. What the heck are you thinking, Liam Hemsworth?!? Jeez. Anyway, elder Hemsworth is super-hot and buff and alpha male. He's also wicked as Thor. So, done and done. The movie plays around with the outlines of the Snow White story and comes up with something that has some of the same tell-tale elements (dwarves, apple) but makes them a little more contemporary and inserts a political point about womyn, that in the process robs audiences of the making out scene they so desperately want AND garbles some of the story elements (ie. why does Snow need the Huntsman to kiss her awake? Why does the Wicken Queen have to be the fairest? We dun know.) Anyway, this was a fun enough disposable viewing, although not something for the ages

.
Sunday was Father's Day. We slept in, schlepped up to Markham to have breakfast with Big D and company and then went to Costco and dim sum. Then we came home, I finished a quilt top while the Dotytron and the Boobla napped and then we went to J & S's house for dinner with the Discerning Coyote and his gf. It was a delicious meal. I made us pimento cheese spread which we ate with pita chips. The Discerning Coyote made a lovely, light potato salad. J & S made ribs and baked beans and a roasted beet and goat's cheese salad and biscuits. I made that toasted almond, lemon curd semifreddo and J made cheesecake with rhubarb sauce. I was full to bursting and we had a great time eating and hanging with their kids, who are adorable, punchy, smart little tykes.
The little Boobla might be teething. He's been a fussy fussbudget mini-St. Bernard drool monster lately and he woke up crying at an ungodly hour Sunday morning so I hustled him into bed with us and he slept there. On my arm. Which was awkwardly trapped in a weird twisted position under his giant head. And yet. And yet having him in bed with us is one of my greatest, secret pleasures and I will take my sore arm as payment gladly.
Pingy came over for dinner tonight. I made us that torched spicy salmon rice bowl thing that I like to make. It was delicious. We chased it with cheesecake and my homemade mint crackle ice cream, which is divine.
I've been going a little crazy with the chilled desserts action. This is a fresh mint bittersweet chocolate crackle ice cream I made. It's soooo good and minty! If I had had US-style Girl Guide Thin Mint cookies (the kind without the mint goo) I would have folded some up in there for some more texture.
Fin.