before we embark on the craziest weekend in all of crazytown.
This is my schedule until next Monday:
Thursday night:
Kinton Ramen
(new ramen placed opened by the Guu crew. yay!) with the Dotytron, followed by a viewing of
The Avengers
(yay!)
Friday night: softball at Withrow Park (so close! yay!)
Saturday: take the Big Yam swimming in Markham (yay!), then Costco (boo!), then visit with Poh Poh and my mum and lunch with my deadbeat dad's sister (yay? verdict is still out on this one), then checking out hardwood flooring (zzz!), then hanging with R & R (yay!)
Sunday: Ladies of my street dim sum lunch (yay!), friend's baby shower (yay! but exhausting!), then dinner at B & G's house (yay!)
Final (prediction) tally:
7 full-strength yays
1 medium-strength yay (cuz baby showers are EXHAUSTING. Plus, a lot of people we don't know, PLUS my ex-bf who I practically don't know now)
1 TBD
1 zzz
1 boo
I'll do a final-final tally post-weekend. We'll see how things compared.
What I really want to be doing is building this kid misty-tent sprayer thing this weekend:
So bada**! The tutorial is here. It's just PVC pipe that you hook your hose up to. If it turns out, I'm basically going to want to live under that this summer. It's like the Coke tent at Wonderland/every summer rave I've ever been to, but ALL THE TIME! Although now I'm reading that maybe we should try a PVC-free alternative...maybe PEX. It's not supposed to be that hot this weekend, so I can hold off.
Another thing I want to get: SKY LANTERNS. So much fun! Look: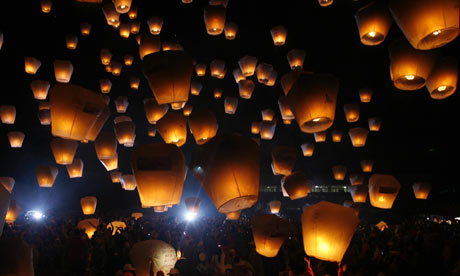 I think it'd be fun to get them for the neighbourhood kids and adults for Canada Day or something. I know I keep saying it, but: I LOVE MY 'HOOD! We missed it this year because we were in Geneseo, but all the adults pooled their money and bought fireworks and went to the park and lit them. So much fun! So cute!
In other news, look at my peony!
My garden is killin' it this year. Here's a sideways picture to prove it:
And here's a random photo from last Friday of the roomie, ready to pop, and the Big Yam:
So, so cute!
I've been reading a tonne lately. Here are some book reviews:
Gabriel Bá and Fábio Moon are brother comic authors from Brazil. Daytripper si about a man who writes newspaper obituaries for other people, reflecting on his own life. It is dreamlike and ruminative - the story asks you to wonder what events, memories, actions, make you you. It asks you to think about the act of taking stock and tallying up what makes a life a life. I loved it. It's beautiful and the pictures are simultaneously sharp and hazy, alive and slithering with the energy of Brazil.
Well, as you can see from the cover, Vera Brosgol's Anya's Ghost is heralded as a masterpiece by none other than Neil Gaiman. I for one, am not a Neil Gaiman fan. Just not my steeze. This is a gothic horror comic set in contemporary times which follows a teenaged Eastern European girl who comes across a ghost who may not be all that she claims. I liked the pictures, but the story felt slight to me.
Daniel Clowes (of Ghost World fame) wrote and illustrated Mister Wonderful which is touted as "a love story" but which is a modern, complicated version of that well-trod trope. It's about a man who's long divorced and is dating - basically, about a schlub (a well-trodden Clowes trope), who is neurotic and self-loathing trying to find middle-aged love. It was pretty cute and okay. I really love Clowes' illustration style. It's so iconic.
This. This is staggeringly good. This is bring-you-to-your-knees good. This is highlight-every-passage good writing. Jeannette Winterson is a well-known British lesbian feminist author (I mention all those subject identities because they inform their work, not to be salacious). I've read a couple of her books. Why Be Happy When You Could Be Normal? is her memoir, an account of what it was like growing up adopted by an ultra-religious depressive parent in working-class northern England. It is also about Winterson's struggles to carve a place for herself amidst the tabula rasa of her own adoption, of the events that made her the author she is today (many, many hours spent reading "English Literature from A-Z" in the public library). She is an erudite, evocative, gifted writer who is at once funny, wry, warm, open, and reflexive. It's everything you want a memoir to be. She wrote it in real time, in the sense that as the memories came back she recorded them and the events of the present - in this way, you journey along with her as she goes through her spells of depression/madness and comes out the other side. It is funny and smart and moving. I can't recommend this enough. If you're into memoirs. My Academic Book Club chose this (at my suggestion - someone wanted a memoir) and we're meant to read it alongside Alison Bechdel's Fun Home (which I had read when it first came out), which is her comic memoir of growing up in a funeral home and coming to terms with her closeted homosexual father's untimely death (likely a suicide.) Bechdel recently released a new memoir, Are You My Mother?, which talks about her relationship with her mother and is receiving rapturously good reviews from the NYTimes, etc. I'm chomping at the bit to get my hands on it, but for some reason, TPL is dragging it's feet.
Monday night's dinner of slow cooker thai coconut curry soup with rice noodles. Easy! I'll post the recipe tomorrow.
A flash of inspiration had me create this dish - a riff on all the Asian mashup cuisine that's so popular nowadays. These are pork and beef kalbi burgers with pickled cucumber (rice vinegar, sugar, sliced red onion and togarashi) and kimchi mayonnaise. It was a good first try, but all the flavours could be pumped up a bit. We ate it with grill-roasted asparagus.
Wish us luck getting into Kinton tomorrow night so I can post a full review!!!