Blargh is how it is around here and blargh is how I'm feeling folks. Because I am a child of the new millienium (in spirit, if not in age) then I will report back to you, my ever faithful readers, in a list format:
The Good:
- finished a paper 8 days early! This stunning display of anti-procrastinatory behaviour is brought to you by the time-honoured technique of "repurposing a paper from a previous master's degree"
- had a family and friend filled (if not exactly restful) weekend
- this is a four day work week, which will be followed up by a 3 day work week
- we will be spending the weekend in Cleveland celebrating the nuptials of Chef H and his bride-to-be, A (and my fam-bam will be there, too!)
The Bad:
- I have to finish another paper this week and prepare a 15 minute conference presentation on it by next Saturday
- work is INSANELY busy. Like, so busy that I'm being run off my feet and the pleasant sensation of feeling under the gun has morphed into the slightly queasy, sweat-inducing sensation of seeing the bullet coming at you 1000 miles a minute
- the weekend was busy and thus our house is a giant pigsty of disgustingness
- there is no time to clean up said giant pigsty of disgustingness
- I haven't been home enough lately to spend QT with the Big Yam and it makes me sad because he's kind of the best right now.
I don't know how I'm going to reconcile everything. Academic Book Club continues to pile on the homework (2 books and an article?!?) and our meetings are now on a regular schedule (first Thursday of the month, instead of when it works out for everyone). Work Book Club has started back as well. I'm feeling really behind on my reading, between the two book club's required reading and the ever-growing list of new stuff I want to delve into.
I have a quilt I want to make for the roomie's bambino. I have assorted things I want to start working on - not the least of which is getting my ducks in order for the kitchen reno...which is probably still over a year off, but I want to know exactly what I'm getting and have everything priced out so that when the time comes, I can just pull the trigger. I'm thinking white, Shaker-style cabinets with really exaggerated, modern pulls, grey counters, a grey cork or tile floor, and an acid yellow backsplash. Some open shelving, magnetic knife rack, and some wire baskets to hold onions and potatoes and fruit and such.
This is the stove I want. I'm really set on dual ovens, and I can't afford like, a Viking or anything. This is a Fisher Paykel - I like the big oven-little oven combo...I would first have to see if the little oven can fit a half sheet tray. If it can't, then it's kind of pointless and I would just go with one oven, which is what I've been working with for the past ten years.
This is the sink I want. It's a Kohler stainless steel "smart divide". A DOUBLE SINK WITH A LOW DIVIDER. Genius!!! Serious, serious genius! All the benefits of a double sink AND a farmstand sink!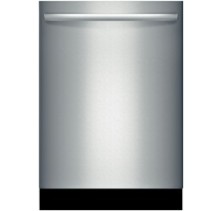 I'm not wedded to this model, but when we finally (FINALLY!) get a dishwasher...I want a Bosch or a Miele. I told you: I'm not f**king around any more. This is for reals.
Of course, it remains to be seen if we can actually blow like 10gs just on appliances...but I want my kitchen to be boss...otherwise, I'd rather just save up for longer until I can get the one I want.
Tonight's dinner was a reuben sammy with leftover St. Paddy's corned beef. I also had a salad alongside.
Back to the grind, sons. Back to the grind.