First, I'm going to get all high culture on you and talk about the two last books I read. Commencing forthwith.
Téa Obreht is a 20-nothing writing juggernaut who makes me green with envy. She's like this decade's Zadie Smith, though less funny and more sombre and lyrical. Either way, it's maddening. When I asked my friend K if she was planning to read The Tiger's Wife, Obreht's debut novel, she responded, "No. I'm not a fan of phenoms." LOL! The publication of this book was a bit of a literary event and it's received overwhelmingly positive reviews. The story follows a female doctor in an unnamed Balkan country, newly emerging from the fog of war (it's widely considered to be about Yugoslavia/Serbia). Upon learning of the death of her grandfather and after traveling across a newly established border to delivery inoculations at an orphanage, stories of her grandfather's youth mix and mingle with myths and lore to weave a textured tapestry of history, mortality, nationalism, war, kith and kin. Was I smug about how her editor didn't correct Obreht for using the word "shivering" no less than THREE times in the first 25 pages as an adjective describing the motions of plants? Of course I was! "Some phenom!" I scoffed, with the over-sized scorn of the bitterly and enviously untalented. She is a gifted writer though her writing isn't necessarily to my current taste. It's a little too mannered in a stereotypical "literary" fashion for my taste. And I thought certain chapters dragged. The chapters narrated by the grandfather figure resonated the most. I would certainly recommend this title, but I wasn't head over heels about it.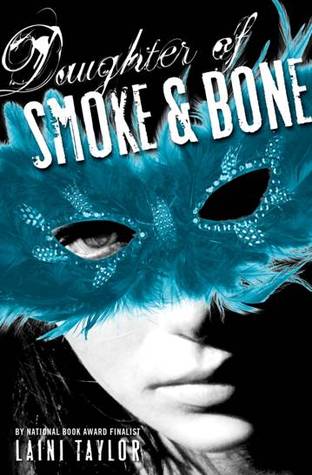 Laini Taylor's Daughter of Smoke & Bone came to my attention when it received an A- grade in Entertainment Weekly (my pop culture bible). Subsequent breathless glowing reports from my sister confirmed that this had all the makings of being able to fill the void left by The Hunger Games in my YA reading life (my sis also introduced me to The Hunger Games, about a billion years before it became zeitgeisty). This is fantasy-driven YA about a human girl, Karou, who is an art student in Prague, raised by demon-like "chimaera" with no knowledge of her past or of how she came to have this strange family. Mysterious things start to happen that kick-starts a breach between Elsewhere and the human world that you and I occupy. Elsewhere plays home to a centuries-long war between seraphim (angels) and the chimaera (demons) and the events of the book follow Karou as she discovers who she is and her role in the battle for this other world. It is GOOOOOOOOOD, folks. Like, I read 2 pages and was INSTANTLY hooked. Like, I read it in 2 days good. It's got everything - forbidden love, sex, demons, angels, a strong female protagonist, Prague as a backdrop, good, evil, war...all the awesome stuff you want. I can't recommend this enough. If you're not susceptible to fantasy then you might be turned off, but all I can say if that is the case is that you're letting irrational discrimination keep you from an excellent yarn. AND IT'S A SERIES! I don't really know how I'm supposed to wait until the next installment gets released in 2012...but it's going to be freakin' tough.
I recommended it to my friend, Montréal I, who is the person in my life MOST likely to love it. We saw her over the holidays and she was lamenting her current single state (she's been single for a while now) and how she's on the lookout for a warrior with the soul of a poet. It's really funny if you actually know Montréal I, how much that archetype is PRECISELY who she's on the lookout for. However, as we were trying to think of people (fictional and otherwise) who embodied this - it became pretty tough. Aragorn from Lord of the Rings is pretty much the standard-bearer and then it becomes pretty slim pickings after that. Once you get into real people, forget it. We couldn't think of a single person who personified warrior-with-the-soul-of-a-poet.
The low culture part of my post comes when I start talking about style. Here is my newest style tip for you ladies who have to dress business-casual. When you wear a sweater/cardigan type thing over your blouse and you are concerned about looking mumsy (which this look can very often devolve into) - my tip is: roll up the sleeves of your sweater so that they're 3/4 length. This very simple trick takes a mumsy-looking layer and turns it into something a little more fashion forward and sharp. Trust me.
So, my updated spring/summer work wardrobe is in need of some killer footwear to polish it off (that and the ultimate satchel/purse...but that's proving to be a difficult fight). Here are some contenders:
SM Reilly Sandal is a more casual entry - not exactly what I'm looking for, this would be more suitable for casual, weeknight/weekending than my every day shoe at work.
Ted Baker's Denoo sandal is almost exactly what I'm looking for. One of the looks I'm trying to get going is a slouchy, trouser-y khaki pant, rolled at the cuffs with a blouse, a shrunken blazer, and shoes like these to give the outfit some lift. These are a perfect shoe to elevate a more casual outfit and ground a flirty, flimsy summer dress. At $119 though, it's a little more than I'm looking to spend on one shoe.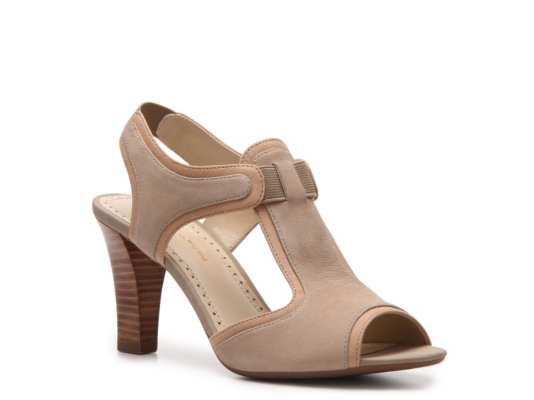 The Adrienne Vittadini Aspen sandal is a more neutral, classy, understated version of the summer shoe I'm looking for. This would be a more versatile shoe that can support a more dressed up look (ie. a summer wedding - if one was actually happening - or, the favorite fashion magazine event that never happens in real life - the garden party).
You can't go wrong with a patent flat in a neutral colour. This will be a summer time workhorse when I'm tired of wearing heels (so like, everyday). These are SM (I think that's what Steve Madden is called now) Gypsi flats in camel.
Finally, Jellypop's Garlie sandal is like a low rent version of the Ted Baker ones above. Priced to move at $25 - these will be a good substitute for me to try this look instead of committing to the price of a multiple-season shoe. They're a little clunkier and a little more cheap looking, but at my work, no one really notices these details except for me.
Decisions, decisions! I probably have it in my budget to get 2 new pairs of shoes...we'll see which ones I end up with.
For dinner tonight we had cheddar broccoli soup and Ace Bakery olive boule with butter: