We're starting a kind of practice run of real life today - slowly but surely giving ourselves over to the inexorable grip of the Toronto District School Board's demands on the Dotytron's life, a month-long preview of what things are going to be like with one of us at work full time, with me joining in in October. The Dotytron will be going into work almost full days all week - and I'm going to start handing over a dinner or two a week to him - so he can get a taste of what it's going to be like when he's responsible for the daycare pick up run and also responsible for the bulk of dinner preparations.
My work schedule is going to be an approximate 8:45am start until 5:30pm (which includes my extra half hour a day for my compressed work week schedule - the thing I do that allows me every third Friday off). I might cut my lunches back to half an hour, which will let me leave at 5pm and home around 5:30pm. Tuesdays are going to be a rough day - I have class from around 6:30-9:30pm which means that I basically won't see the Boobla all day that day. Wednesday nights we're going to have dodgeball which also means we probably won't be seeing the Boobla that day unless we end up dragging him to games - which is going to be more and more difficult with him getting bigger and bigger. These are definitely the hard choices you have to make as a parent who still wants to lead a full life. One of our neighbours down the street have a daughter entering JK who has NEVER been left with a caregiver - ever. Insane, right?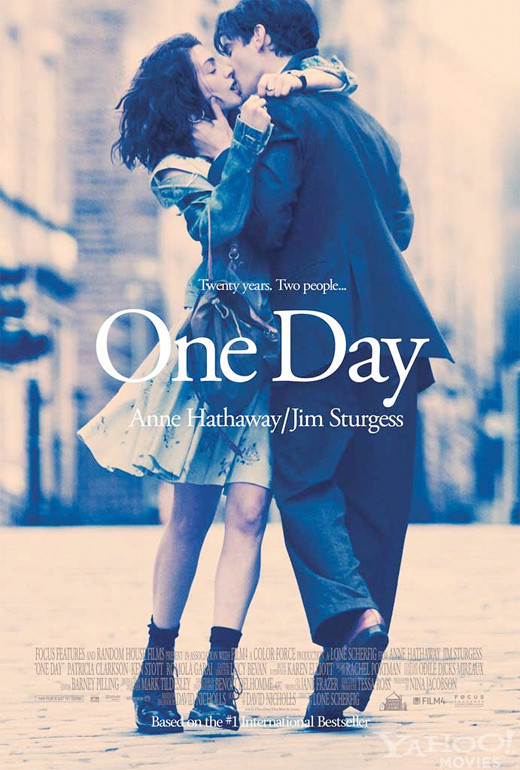 One Day
was pretty terrible. I'm certainly glad that Dr. Rei and I didn't have to pay for it. Anne Hathaway's British accent is as flighty and indecisive as her character - sometimes it's kind of there, sometimes it devolves into a Irish brogue, and sometimes it just disappears into the ether. I'm not sure why they opted to cast her in the film when any number of accomplished British actresses would have sufficed. Jim Sturgess is okay as Dexter Mayhew - a little slight for how I envisioned the character and the aging they do at the end to ease him into his 40s is kind of egregious - crow's feet that stayed as deeply furrowed when his face is still as when he smiles. I think that knowing the book might do you a disservice, but even as a film it falls flat - there is zero chemistry between the two leads, their motivations are opaque, their "love" a complete mystery and the film looks pretty cheaply made. The dialogue is stilted and the delivery wooden. Don't see it!
By contrast, The Help is a literary adaptation done well - ingratiating to those who haven't read the book while faithfully (enough) adhering to the spirit of the inspiration material to please those die-hard mum-lit devotees who've helped to make this book a fixture on the New York Times bestseller list. This is mum-lit to the max - a serious subject (race relations in Jackson, Mississippi during the Jim Crow years) treated with respectful gravity that never gets too serious (a black man is shot, but the event is given a properly sombre-yet-blithe glossing), an all-female cast, and a deliciously b****y villain played with just the right amount of scenery chewing over-the-top-ness by Bryce Dallas Howard. How can you go wrong? Throw in the message of the white woman helping the black maids find their voice and you've got an all-around winner. I found this film fairly entertaining, carried mostly by the winning performance of Octavia Spencer as sass-mouthed Minny and Viola Davis as a steely, resigned, and mature Abileen. I didn't quite believe Emma Stone as Skeeter Phelan, but she disappeared enough into the role that it wasn't glaringly obvious that we had "it-girl hottie" Emma Stone on our hands. Jessica Chastain is winning as a white trash woman faced with the cliquey hatefulness of the Junior League biddies. I would definitely see this - maybe not in the theatres but it's a good one to watch on a lazy Sunday afternoon with your mum.
We got a preview trailer for
Like Crazy
, which has been generating mad buzz since winning big at Sundance last year. Anton Yelchin and Felicity Jones play long-distance young lovers. I teared up watching the preview and can't wait to see it in the theatres.