holy crap. look at those numbers in that subject line. 2010! this is the future! the future is now! isaac asimov, h. g. wells, arthur c. clarke, and all the grandfathers (and grandmothers, although admittedly, science/speculative fiction was primarily a dude's genre) of speculative fiction would be losing their minds at the wonders and glories of the 21st century. and yet, for all that, my favorite moments from the past two weeks spent in interweb and tech isolation are the ones spent with dear family and friends engaged in the simple, tactile pleasures that asimov et al would recognize all too well.
here's a brief rundown of what i've been up to.
xmas eve started with the best iteration of toad-in-the-whole i've pulled off yet. there is a certain gloriously transcendent je ne sais quoi about bread fried in a buttered pan that your garden variety buttered, toasted bread cannot ever approximate.
on xmas eve we went to momma and poppa d's and ordered indian food and played a redonkulously hard game or o.g. trivial pursuit (against the strenuous objections of emma-lee and myself - seriously, no one knows who won the oscar for best supporting actress in 1929!) then we went to see "up in the air." overall, i liked it - but i didn't love it. i kind of think it's overrated and the rave reviews are being unnaturally inflated because 2009 has been a particularly lackluster year for films, overall. don't get me wrong, it's quite good, and intermittently funny, but it doesn't make you think, per se. it's a character study about a man in transition - a man who flies from city to city as a downsizer-for-hire - delivering the news that bloated bureaucracies are too cowardly to impart and adroitly and deftly managing the inevitable emotional implosion of the objects. the man (played well by george clooney being george clooney), is detached, emotionally removed, preferring the rituals and social interactions of travel to real human connections.
as a commentary on the economic ravaging of america, i thought it was well executed - the quiet dignity it gives to towns that don't make the news very often - the omahas, the minneapolises, the kansas cities. the film tenderly puts a face to the realities of recession and the particular brand of detachment that allows a more fortunate person to remove another from engaging in their capitalistic pursuits and identities. i was less engaged with the emotional story of george clooney's epiphany. i thought anna kendrick was fabulous as the pert, eager, corporate shark in the making, and vera farmiga was exquisitely alluring as the thinking person's sex object. the directorial flourishes in the beginning i could have done without, but overall, it's a fine film. not one that i particularly want to revisit or consider brilliant, but well done nonetheless.
xmas morning saw me whipping together some panettone french toast and english bacon with the dotytron's family. we changed things around a bit. for the past 6 years, the tradition has generally been: wake up, mimosas, present opening for hours, late breakfast. this year, we decided to do breakfast first, then mimosas and present opening. it was a nice change as present opening takes a while and we're usually famished and then have to eat a giant turkey dinner shortly thereafter. i had panettone because the italian grocers i frequent did me a solid and helped me vac-pack some montreal smoked meat i picked up from schwartz's. in exchange, i offered to pay and was told to buy a panettone instead. it makes the BEST french toast. so custardy! the panettone soaks up the egg-milk mixture like you wouldn't believe...it's even richer than brioche french toast.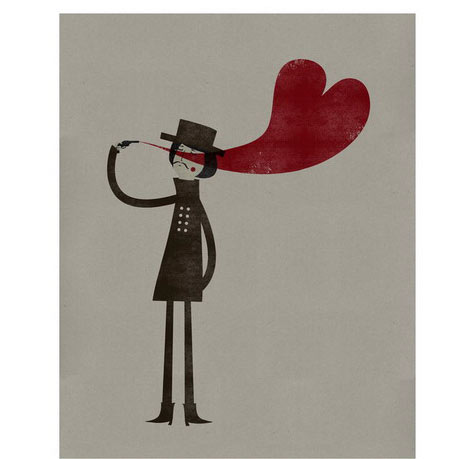 santa was super-generous with me. i got my big bag of salted pistachios and the blanca gomez print i wanted!!! and the
beautiful leaves of canada
print. assorted other goodies as well...a cute book and some much-needed stripy socks.
check out how cute emma-lee and the dotytron are in their snuggies! i searched (and by "i" i mean, my sis) high and low for the leopard print one after a chance sighting at a pharmacy in one of the towns near rochester the last time we were in geneseo. i should have bought it right then and there but i didn't...and then realized how perfect a leopard print snuggie would be for my outlaw sis. i'm so happy she loves it.
dinner was with momma d's sister, uncle jeff, cousin mark and cousin yeti and his lovely wifey. i made that caramel pecan banana upside down cake and we ate it with whipped cream.
that night we came home full of turkey and mashed potatoes and stuffing (god, how i love stuffing). we homer'ed out on the couch and in a fit of frivolity ordered "julie and julia" on rogers on demand. UMMMM...did you know that you get that movie for like, HALF a millisecond? we watched like, 3/4 of it and when we tried to go back to it 2 days later it was GONE! what a scam! this movie was pants! i hated the book and i hated the film even more. don't get me wrong - the "julia" parts are great. julia child by way of meryl streep is engaging, self-deprecating, full of joie de vivre, and inspiring. julie powell by way of amy adams is a whining, miserable, complaining cow. she was like that in the book, too. totally undeserving of any fame she's garnered. the julie segments drag the whole movie down. i would have rather seen an entire movie based on the life of julia child.
the next day we packed up and hit up my family's xmas. it was a proper hootenanny, filled with movies, jokes, miss ramona's annual xmas post-dinner holiday play, karaoke on my bro chova's new ps3 singing game. i was feeling pretty down with a cold, but the dotytron, my sis and i came up with the following meal: roasted porchetta style pork (rubbed with fennel and lemon), pork cracklings, my sis' corn pudding, my corn pudding, sweet potatoes with marshmallow topping, fennel and potato gratin, and my mom's contribution was the non-thematically sound king crab legs. for dessert i made sticky toffee pudding with bourbon caramel sauce.
we saw "sherlock holmes" - the trailers DID NOT do this movie justice! i wasn't a fan of the guy ritchie flourishes during the fighting sequences, but RDJ can do no wrong, as far as i'm concerned. it was so entertaining and it was a nice update to the sherlock holmes cannon. the detective work is still there, there weren't many "cheap" action-movie hokey laughs - the writing and pacing was sharp and fluid. i really enjoyed the look of the film - the costumes were ace and the relationship between holmes and watson had a pleasant, exacerbated, bffs-for-life rhythm (my sis thinks there's a homoerotic subtext, which i think they should go balls-out on if there's going to be a sequel). we were all pleasantly surprised.
on monday we had little ze and miss ramona with us for an afternoon at the museum and then a sleepover. it was hilarious. the best lines of the day:
*in the car*
little ze: "RAMONA! RAMONA! LISTEN!!! RAMONNNNNNAAAA!!!"
miss ramona, exasperated, finally, "what"
little ze: "light bugs [lightning bugs] have lights. that come out of their butt."
*later in the car"
miss ramona: "little ze's brain is not very powerful."
LOL!!! those kids are hilarious. we had a good time at the museum. we went with H and that guy and sweet baby D. thank goodness they have a ROM family pass - we got to bypass the line and that was KEY. otherwise, it would have taken us 45 minutes just to get in!
the best thing about the museum is that everyone is exhausted by the end of it...the adults within 10 minutes of stepping foot inside the place, the kids came home, ate dinner and promptly slept for like, 12 hours. it was the best. what wasn't so the best was my nephew's fake vomit routine. he'll get up, say, "i have to go puke" and then go to the bathroom and grip the sides of the toilet like his life depends on it and hang his head WAAAAAAY into the bowl and do this awesome heavy-breathing routine for a good long while, and right when you, as the primary caregiver start to be ready to freak out, he pops his head up, fine as can be, and says, "no puke!" and goes about his merry way. for dinner i made them roasted tomato soup which they refused to try and grilled ham and cheese sammies. we supplemented ours with a croque hermaphrodite.
we bought each of them a book for bedtime stories. little ze's book was an alphabet animal book with glossy, high-res, arty shots of animals for each of the letters of the alphabet. i was trying to get miss ramona to practice learning to read by covering up parts of the word to see if she could identify her "sight" words that she's learning in school. the annoying thing about her is that she gets uber-lazy and stops trying and gives up. anyway, the word was "toucan" or something so i covered up the "tou" to get her to try to read "can." she started making the "c-c-c-" sound and out of nowhere, little ze stars piping up, "can. can can can can can. caaaaaaan. can can can can can!" he wouldn't stop! me and the dotytron looked at each other like, is he some kind of savant or something? with his not-very-powerful brain? lol! he did it for like, 2 minutes while miss ramona fake-tried to read. it was hilarious.
the next morning was the dotytron's big 3-0. i made us all belgian liege waffles for breakfast with pearl sugar brought by my friend LD who's living in brussels right now. the pearl sugar makes all the difference. we also had birthday bacon (which is regular bacon, served to someone on their birthday).
then we dropped off the kids, went grocery shopping for the farm and met up with the roomie, l'army, pingy (visiting from NYC) and I from montreal. we hung out for a bit and then went to
the tulip
for the dotytron's birthday dinner. the tulip has been around since 1929. i like it there. you get classic steakhouse/diner fare like liver and onions and veal parmigiana and steak tenderloin with green peppercorn sauce. you can ALSO get what i ordered, a 14oz prime rib, medium rare, au jus, with baked potato (or mashed, or french friend), vegetable, and salad with a scoop of complimentary ice cream...all for the bargain basement price of 20-odd dollars. like, seriously? are you for serious? it's so old skool! i love it! plus, i feel like it's on par with the keg, without the keg's exorbitant mark-up for mid-grade meat and execution. aces! i love me some pingy. she's living in this hilarious co-op house in brooklyn right now with a bunch of high-achieving grad students and lawyer-types and i'm dying to visit her.
after that, it was almost 4 days at the farm complete with a new year's eve party, nudity, and non-stop laughing. apparently, my american apparel training-bra isn't quite up to snuff. i'm not good at being a girl! lol! my attempts to "grow-out" my toenail polish colour was met with repulsion all around and was promptly fixed by a pedicure courtesy of the best damn hairstylist in all the world, smckay. i love the farm, so much. it's so much fun. we did a secret santa/yankee swap gift exchange and when the dust had settled, i had won me a SLANKET. zomg! if you think the snuggie is good, the slanket will literally knock your socks off. it's larger, so you can spoon and fit two people under there. it's made of a fluffier, softer, plusher material. it's got a kangaroo pouch AND little pockets for your feet! it's THE BEST INVENTION KNOWN TO MAN!
okay...i'm totally typed out. tomorrow i'll update you on date night with the dotytron, featuring one of my top flicks of 2009, "the fantastic mr. fox" and a belated birthday brunch with the dotytron's family at lady marmalade. it's like 7pm now and we're off to meet up with the roomie, l'army, and montreal I to watch "district 9" in their frigid house. guess what i'm bringing? it starts with an s and ends in "anket"
fin.