too busy putting together ikea furniture with "gs to gents" in the background *shoots self in face* that show is HORRID. it's so mind-numbingly BORING. i had a class A wigout last night putting together our dining room tables while the dotytron lolled around on the couch like a strangely lanky seal. i very rarely indulge in mindless tv watching - like, watching something just to WATCH SOMETHING so when the dotytron does it or when i'm trying to accomplish something and that's happening in the background, it puts me on edge. since i was already putting together ikea furniture and was ALREADY on edge, i was a seething ball of barely suppressed (and frequently unleashed) rage. my mulled apple cider was too sweet! i didn't want to go into the basement to get the drill bits! my butt was sore from sitting on the ground! it's too hot in the house! COULDYOUPLEASEJUSTGETUPANDGETMETHEDRILLBITSCAN'TYOUSEEI'MPUTTINGTOGETHER
OUR
FURNITURE?!?????!!!!
i apologized soon after the meltdown (once the chairs were done). it wasn't even a big meltdown, it was just another in the long line of classic lagerfeld and dotytron he said ("why do you have to do this now?") she said ("i'm doing it now because i want it DONE and the least you can do since YOU'RE not the one doing it is get me the small thing i want to finish the job!") testy, snippy scenario. the point is: i got my dining room chairs done. phew! i had lunch with dr. rei yesterday and she was remarking how people always ask her how her friend karl lagerfeld manages to cook dinner, make a billion crafts, etc. and how dr. rei has come to the realization that it's because i'm INSANE, and the most organized person she knows. lol! what really drove it home for her was this past summer, when we went for lunch and i was buying stuff in chinatown, and she asked me what it was for, and i said the meal, and she asked if that's what we were having tonight, and i said no, it's for two weeks from now. lol! i AM insane. and yet, 95% of the time, my insanity doesn't cause me any stress and i REALLY ENJOY it. i love being organized. i love updating my calendars. i love being a little puttering busybody. in another life, i SHOULD have been the heir to martha stewart's throne.
so, for the dining room chairs, i ended up going with these ones:
ikea gilbert, in white. they're in restaurants all over the place, pretty affordable, sturdy, comfortable, and they go with our vaguely modern mish-mash aesthetic. plus i really liked the contrast of the stark white with our dark table and the clean modern lines with the heaviness of our harvest-y table.
i'm still not happy with our dining room colour. what i wanted to be a cool, blue-grey turned more baby's room blue. a little too saccharine. i think i want to punch it up and make it more teal-y/turquoise-y blue...the exact colour in this youtube video (wait for a few seconds in, to see their kitchen colour) would go really well with the purple wall in the living room:
i'm in LOOOOOOOOOVE with our new plates. being the thrifty little parker that i am, i had originally planned on going to tap phong and loading up. then i was snooping around on crate and barrel online and found that they were having a sale on their essential dinnerware. they sell them in 16 piece sets (4 4 piece sets: 8.5" salad plates, 11.5" buffet plate, 7" bowl, and mug)...so i got 3 of those (to make 12 place settings) and then bought for extras of the plates and bowls (i didn't think i would ever need 16 mugs). we like entertaining at home so i wanted a big set, plus my family alone is 10 people and growing. anyway, ALL of that (16 buffet plates, 16 salad plates, 12 mugs, 16 bowls) in microwave and dishwasher safe porcelain okay for ovens up to 300F, was $200 INCLUDING DELIVERY. score me!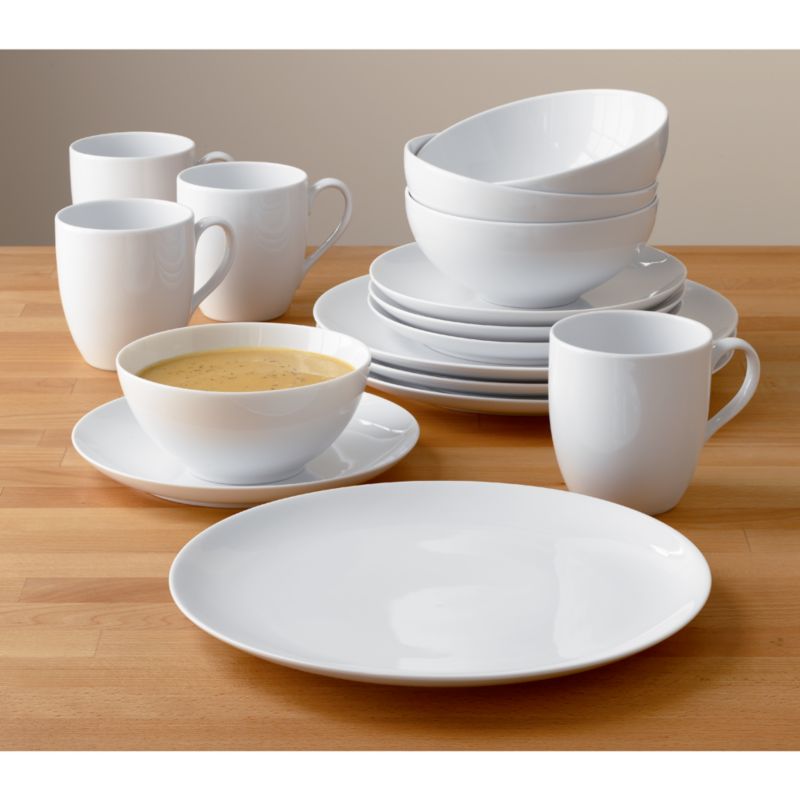 i can't bear overpaying for stuff. it makes me mental. i have two sizable williams sonoma gift cards that i can't even use because every time i go in there, their stuff is so ridiculously overpriced that i literally can't bring myself to "waste" the gift cards in there when i know i can get the item for cheaper somewhere else. it's seriously highway robbery in there - i don't even find it fun, the way other people seem to - for me, williams sonoma is not the cook's playground...it's the dilettante's playground. it's not fun over-spending. you can't take the chinese out of me! it's the same when people ask me if i'm going to trick out my kitchen when i reno with a viking range or all the rest. i mean, yeah, if i had unlimited funds a subzero would be nice, i guess? and a viking or thermidor range? but seriously? i'm not the kind of person to go buck like that. i've been banging out amazing meals on my crappy GE gas stove at the old apartment and now the made-in-mexico discontinued line moffat we inherited at lil' ugmo and i'm doing just fine. cooks can cook anywhere. fancy gadgets are nice, but not necessary, and i don't see the value for it. it's like when dilettantes go and throw money at a new hobby and get TOP OF THE LINE recording equipment or the best golf clubs - why don't you develop your craft/hobby first before going out and shelling out the big ducats? i feel like that's one of the ways you can differentiate between people who are serious about their crafts and people who think that throwing money at a leisure activity will solve everything.
tuesday night we had the ex roomie and l'army over for dinner - it was nice! i miss having her around. i made a root vegetable/squash mash (sweet potatoes, yukons, butternut) mixed with the leftover dill sour cream from borscht the night before. i made beer-braised smoked mennonite sausage and kolbassa with caramelized onions, as well as cabbage and apples braised with some salt pork. for dessert i pulled out a frozen log of pecan shortbread i had from last xmas (!) and sliced and baked those off. having frozen cookie dough that's either pre-portioned or the slice and bake kind is really, truly, a godsend.
last night i went to ikea and got to ride on the rickety wooden ikea bus. the dotytron met up with me and we bought the chairs and some picture frames (yay, credit!) and then headed home to leftovers. i'm not good at this leftovers game. to give you an idea of how bad i am at cooking for two, i ate leftover muttar paneer. we had that like, a week and a half ago!!! i finished it off.
tonight is dodgeball and it's my dodgeball boyfriend's birthday so we're going out someplace after for food and drinks. i'll stay out for a bit (to eat) and then high-tail it home to hopefully finish writing thank you cards and packing for the weekend. team geneseo is coming up! yay! after thank you cards are done then it's time for xmas cards - gadzooks! but that's easy because it's not as much handwriting and profuse thanking.
i have a whole passel of book reviews to do, but first let me say that our tv watching has started to plumb new lows. we've gotten semi-hooked on dr. drew's "sex rehab" on much music. it's the worst/best! the other "celebrity" (loosest possible definition of that term) rehabs are tough to watch because they're kind of depressing and harrowing because of the physical effects of withdrawal. but sex rehab just seems a lot sillier. even though when you start to get into the people's histories it gets really dark. so i think we're going to stop watching. also, dr. drew is the worst psychologist/psychiatrist ever. he gives you this really patronizing, faux-concerned, duck lip/nod combo that would make me turn TO an addiction, not FROM it.
fin.