the story of our old contractor is that he did all this work, fairly cheap. when we asked him to do additional work fixing our closets and installing shelving in there, he quoted us a price of $600, JUST to put in a rod and shelf...not to repair the plaster walls, no priming, no painting. so we were like, wtf? so i send him an email asking him what could POSSIBLY cost $600 - the materials? the labour? the email was also to say that his guys (we call them the jabberwockies because they'r a crew of youngish, ex-old skool hip hoppers who are all asian) thrashed our new ladder we bought and also ran late etc...so we were wondering if we could get some adjustments. then he calls back and makes me feel like poo for "nickel and diming" him when he did all this extra work for free (ie. the price didn't change even though we ended up picking shorter baseboard than what we originally had, so there had to be a lot of plaster work done, the baseboard was 120 ft. instead of 100, blah blah blah" so i'm like, dude, TELL ME WHEN YOU DO THIS STUFF. i was like, i'm not nickel and diming you, but in the future, it's helpful for me to know this stuff, so that when we're settling up, and i see stuff that wasn't done, i know what i'm walking into. and he's all "well, when we're doing it it's not a big deal, we're already there, but when you start nickel and diming..." i was like, a) i didn't ask you to do that stuff and b) i WANT TO PAY YOU FOR THE WORK THAT YOU DID. so we ended up just settling up and i was like, next time, tell me exactly what you're doing so that i'm not caught not knowing that you did extra work and then you calling me on it way late in the game when i'm trying to get you to pay me for that ladder you trashed.
as a chinese person, dealing with another chinese person, i wasn't into being accused of nickel and diming (which, btw, is a confucius-given chinese RIGHT) when i asked what i was getting for my $600. THAT'S when you tell me all the stuff you threw in? get outta here. i do want to maintain a positive relationship with this guy and the jabberwockies because they're cheap and do decent work.
we ended up going with this other guy for our closets - he's done everyone on our street - you name it, he's done it. the street is basically keeping him in business. he charged us $800 but it included fixing the walls, re-taping the drywall and priming. he's also cleaner than the other guy (ie. he constructed this elaborate cardboard protective barrier for our shoes so they wouldn't get all dusty where he was working).
so that was that. during my week off, the old owner had the temerity to come back to the house. did i tell you guys that on labour day weeken, after the house had been good and ours for over 4 days (keys in hand, title transferred) we came by at 10pm on sunday evening to show our friends the place and the old owner was there putting stuff in the trunk of his rav4? yeah! so i went up to him and he kind of jumped and started and spun around a bit, not knowing whether to close his trunk or not...and then i said (in broken cantonese): "ummm, what are you doing?" and he said he had forgotten to get stuff, and was all like, "do you want me to show you what i took?" and i said yes, and he opened up his trunk and it was a few rusty pipes that he used to hang his laundry on (don't ask). i was too shell-shocked to say, don't ever come back here again, which was stupid.
so the week off, old owner's brother came by (he looks exactly the same, they both owned the place). i happened to be cleaning the windows in the master bedroom, so i saw him start down the driveway and then i shouted, "HEY! YOU CANNOT BE HERE" (i was clearly more prepared this time). and he said he was just looking for mail and then i basically screamed (in chinese no more fixed than my last encounter with these knobs) "IF YOU EVER COME BACK HERE I AM CALLING THE POLICE IMMEDIATELY. YOU CANNOT BE HERE. YOUR STUPID BROTHER CAME HERE AFTER HOUSE MINE AND TAKE STUFF" and he was like, "well, he wasn't stealing, he didn't move it all." and i was like (picture me, almost getting a nosebleed with my attempts to make sense in my second language): "I CARE NOT. YOU TELL HIM HE COME BACK HERE I CALL POLICE RIGHT AWAY! BOTH OF YOU NEVER COME BACK AGAIN!" then he said i had to calm down and he was only looking for letters and then i had to explain "return to sender" which almost gave me a migraine.
i think i scared him off. what freaks.
on friday night i made us paninis on focaccia. they had: grilled zucchini, grilled eggplant, roasted pepper, sliced onion, provolone, and a fried egg. they were really, really good.
saturday i was hauling the aforementioned sod from off my yard and painting and otherwise working my way through my precious free time. we had my brother over for dinner and i made tagliatelle with wilted radicchio, bagna cauda, and a fried egg with a spinach salad with out-of-season strawberries (sorry, locavores!), toasted almonds, sunflower seeds, and a red wine vinaigrette.
sunday my mum came over to visit the place (her first time) and have brunch with us. we went to
okayokay
on queen east. this was the site of the famous, "how about your real name"
incident
. we walked in and we saw there were seats at the bar, with a booth about to be vacated. the same gruff waitress said, "you can have a seat at the bar," and i said, "no thanks, i think we'll wait for that booth" and she looked me right in the eye and said, super stern, "the thing is: i'll seat you at a booth, but i won't seat you at a dirty table, OKAY?" and cocked her head all b***hface on the "okay" part. i was like, so ready to walk out of the place. what the hell kind of service is that? and the food was BEYOND meh. it was actually pretty weak. $10.99 for a "breafkast burrito" consisting of a few scrambled eggs mixed with jack cheese, stuffed in a tortilla, topped with a tablespoon each of oxidized (brown) guacamole, salsa, sour cream? $10.99 for eggs benny served with NO homefries and with a fried macdonald's hashbrown instead of the english muffin? come on. they're banhammered FOR LIFE. we also left a crappy tip, which i usually NEVER do, but i'm not contributing to this culture of entitlement by dropping 20% in a glorified diner on crappy service. i'd rather give it to the clerk at walgreen's next time i'm in the states, who always (regardless of city!) calls me "hon."
then we drove around and did more errands. we went to crate & barrel and bought our dining room table. we got the basque in honey that i pictured before - the 82"

it'll be ready in mid-november. A&J got the same one!!! i'm going for a wood-white-industrial look so i want to get 2 galvanized french bistro chairs, like these, for the head and end of the table (the dotytron wouldn't let me buy the C&B ones cuz he said they're too expensive):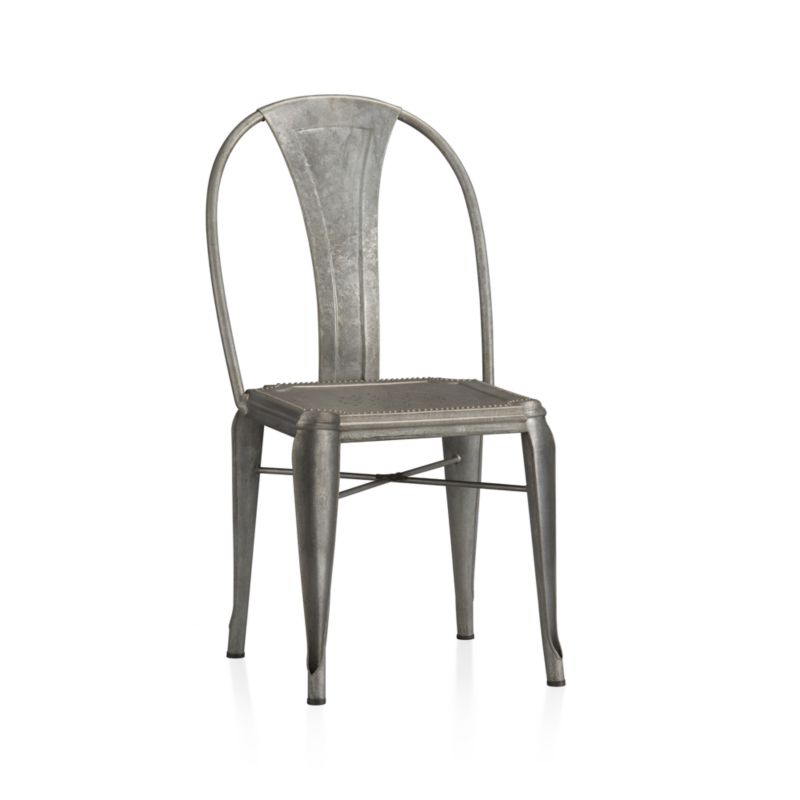 i'll have to wait though...see what turns up antiquing and craigslisting...and then i'll just get these ikea bent plywood ones for the rest of the seating:
i'm not waiting around for an eames or whatever...that's ludicrous. these are rated highly and will do the trick nicely. spending a lot of money for bent plywood is the height of stupidity...i'm not THAT wedded to mid-century modern, thanks.
edit - i'm having second thoughts about the table. i can get a vintage walnut (veneer) one with slim lines and slim legs from the 60s or 70s for $299 - the one i saw online even had TWO leaves! i have time to change my mind, though. PROS: if i get the cheaper table, i can get my galvanized chairs, which are harder to find, vintage. dining room tables are a dime a dozen.
last night for dinner i made us seared salmon with ultra-crispy skin, sweet potato and yukon latkes with sour cream and applesauce and broccoli in a spicy-soy sauce. so tasty! i also celebrated my new oven racks with new york times chocolate chip cookies - we ate a tonne of them while my s-dawg was over. he introduced us to this new game -
the world of munchkin
. it's kind of like d'n'd with a lot less rules. it's fun! it won best game of the year recently.
we also went down to this kick-ass movie rental place,
the film buff
which sells scoops of ice cream AND is the kind of movie place where they organize the titles by director and country. love it! we rented "all the president's men" - we didn't finish cuz we were pooped and went to bed at 10pm but it's SO GOOD! i'll post a review when we finish.
tonight for dinner we had short pasta in a creamy squash (b-nut) sauce with roasted garlic and herbs (fried sage and fresh chopped parsley). it was really tasty and really easy to do. i'll post a recipe at a later date.
fin.