hottest crew of friends to ever storm a wedding - evidence:
oh, and the bride and groom looked pretty damn foine too:
how adorable are they? C is positively radiant!
so effing cute! the mcmichael gallery is an absolutely stunning spot - the gallery itself (where the reception was held) is all rustic stone and wood beams and the outside features hills (the ceremony was outdoors on top of a hill) overlook rolling wooded glens. the sun was shining, love was in the air, and we got to be there for our nearest and dearest. is there anything better? and we got to welcome J & A into the ranks of homeowners...helping homeowners! they bought what sounds like from all accounts an absolutely gorgeous abode in the kdubs for a fraction of what we pay in toronto without all the headaches. they bought big fabo!
i'm feeling a leetle better about our hovel. i know we did the right thing. we didn't overpay - we got something with room to appreciate with a little bit of elbow grease and a whole lotta cash infusion. we went by again yesterday to pick the colour for the master bedroom:
corn husk green on the left, citron on the right. i think we're going with citron. i think it'll look really nice with the colour of our teak headboard and bed - and we're not doing the whole room. most of the rooms save my craft room and the dining room are going to be 3 walls of white with 1 accent wall in a colour. i think it would look awesome with this marimekko bedding set: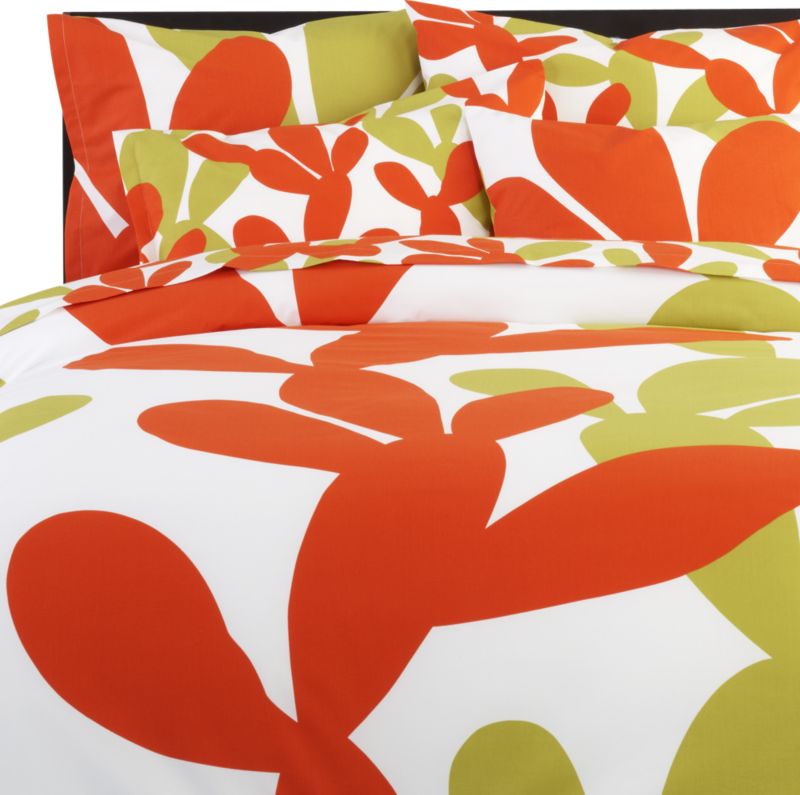 the citron wall is also going to be broken up with some floating shelves, probably ikea lack ones in white - so we can display some posters or prints or something - or just have some prints displayed with bulldog clips:
yesterday was bucktown. we woke up early and then immediately figured out how much paint we *think* we're going to need and then busted ass to home depot to buy s**tloads of paint so that we could get that 30% off deal. then we came back and i made us sunday breakkie (challah french toast spread with passionfruit butter we brought back from hawaii - it's a fruit butter so that means there's no butter in there, it's just a super-thick, spreadable, passionfruit elixir from the gods).
after breakkie the dotytron went to rip out baseboards and i went to town painting my desk and this other piece of furniture, then we hauled our butts over to C & A's place to drop them off at the airport but we got stuck in traffic for the CNE so we were literally pissing ourselves worried that we were going to make them miss their flight for their HONEYMOON. then we came home and i cooked a bunch of stuff to bring over to the old roomie and l'army's house for dinner. they had steaks and corn and hosted and i brought that cucumber, radish, feta and dill salad, hasselback potatoes with bacon-scallion-dill sour cream topping, and a cherry tart with brown butter almond streusel. the cherry tart was THE BOMB.
today is more bucktown. the dotytron is lesson planning and i'm doing more painting and hopefully spraypainting our new filing cabinet a fire-engine red. then we're hoping to make it to the house so that there can be more baseboard removal and i can clean the kitchen and then we're going to go for a hamcamp reunion with possibly my brother s-dawg and my friend L to see bwong's new digs and do some latinfest 09 thing that's happening up there which apparently involves flautas and churros (SOLD!)
then tomorrow is the dotytron's first day of school and the electric work starts on the house!
eeps!
fin.