i went to a conference today. it was okay. my chief concern was making sure that i ate enough - to that end, i spent $20 on food (nutella crepe, italian sausage, poutine, water). i also saw richie florida. he was the keynote speaker. i don't want to say he comes off a little greasy except i just did. also, i know nothing about him but i was kind of suspicious already (in the way that i'm always suspicious and mistrusting of anything i don't know about), so i was blathering to K, "what kind of credentials does he have anyway?" only to find out in the intro that he's taught at harvard, got his phd from columbia - you know, provincial colleges like that. lol! his talk was decent, but unsubstantiated by data, which he claims is in the book. now i'm going to have to read the book(s) so i can tear him a new a-hole with authority.
i also went to my first camp/unconference session...it was called WIREDcamp. it was all about how anyone who doesn't use social networking is a tool (that's their position, not mine) and how twitter is the be all and end all. i called someone a fascist. mainly for saying that use of social networking tools should be used as a base-level skill before hiring someone. i was like, ummmmm...how many of you know how to manipulate data effectively in an excel spreadsheet? and the rebuttal i got was that those skills were way more specific. how 'bout you come talk to me when oh, i don't know, INTELLECTUAL RIGOR, READING COMPREHENSION, AND THE CONCEPT OF COMPARABLE DATA becomes a base-level skill before hiring someone? how about that? you gotta crawl before you can walk, son.
i was like, you know why people hate you guys? because you act like freakin' social networking moonies. the discourse gets framed with a quasi-religious fervour that can be QUITE off-putting and alienating. also, SOCIAL NETWORKING IS ABOUT THE SOCIAL! there has to be a USE for it in your day to day work life. so yes, if you're in communications or running consultations or something, then i can see the use of it. but it shouldn't be mandatory for someone working in payroll or something - especially as it can't be demonstrated that for their WORK it's necessary or will make things easier. let people have fun on facebook on their time off, to chat with their friends. and another thing - it's one thing for twitter to exist, it's another thing to force our work flows to adapt to it for the SAKE of it. make the technology work for you, don't force your work into the technology.
also the discourse gets framed in a very antagonistic way and you know what? that's REALLY OFF-PUTTING. plus, it's hard to get into social networking for work when you work in a politically sensitive environment. social networking tools allow for the collapse between different subject positions that we assume in our lives - so work people can suddenly access stuff about me, whereas traditionally - those avenues were kept separate. at the same time, when you work in a professional environment, you have to MAINTAIN those subject positions concurrently - so you can't really be "you" if you link your job information to your profile.
i'm coming across as more negative than i actually am. i think this stuff is great, overall. wikis really helped my family plan our family vacay and it has cut down on the backlog of email convos when you're doing group projects at work. and twitter is fantastic in giving me a window into REAL TIME spats between lindsay lohan and samantha ronson. but i think the discourse is all-too-often really patronizing to people who don't use the stuff. like you HAVE to. it's a choice! remember choice? and "social networking tools" becomes this black box for a larger picture that's not being discussed - stuff like knowledge management and retention, like information management, like general media literacy. it should be part of a larger dialogue to make the base of skills in a workplace more well-rounded - so that i know how to use outlook effectively AND post on a wiki AND understand what it means to be flamebroiled on a messageboard for being an attention whore AND organize your blog reading list. it's all part of it. knowledge and information as a WHOLE, not solely through the lens of social networking tools.
[/rant]
we got rid of the dining set. yay! so all that leaves now is the bed. the bed isn't a deal-breaker - it's easy enough to take apart and move. so now we need a new dining table. i kind of want something that's expandable - as you all know, i love to entertain and frequently host large groups. i'd like it to comfortably seat 8, if at all possible. space is a bit of an issue. the easiest route for me to go would be mid-century danish style - but i don't want our whole house to be that and we already have a buffet in the dining room that's going to be like that.
really, i want something kind of rustic, solid wood, and rough hewn - maybe with industrial touches like metal legs. something like this:
from
visitor parking
.
from
kiosk furniture and accessories
.
i know we're talking tables, but these chairs (also from kiosk) are hot fiyah: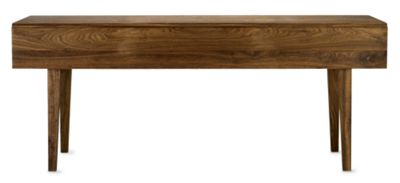 from
design within reach
.
but those are all at least 2 g's if not more. CRAZY! then you peep crate and barrel and you say, "damn sons...why you gotta be all sensible and shiz?" check out these beauties (on sale for $699! seats up to 8!):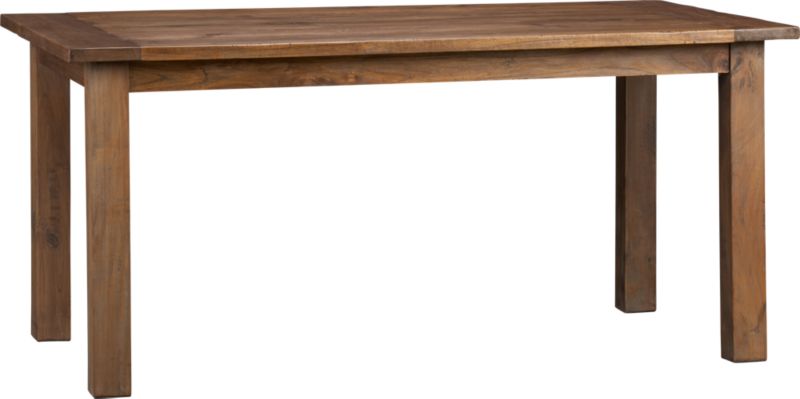 terravida (new and reclaimed teak)

basque dining table (solid mango wood)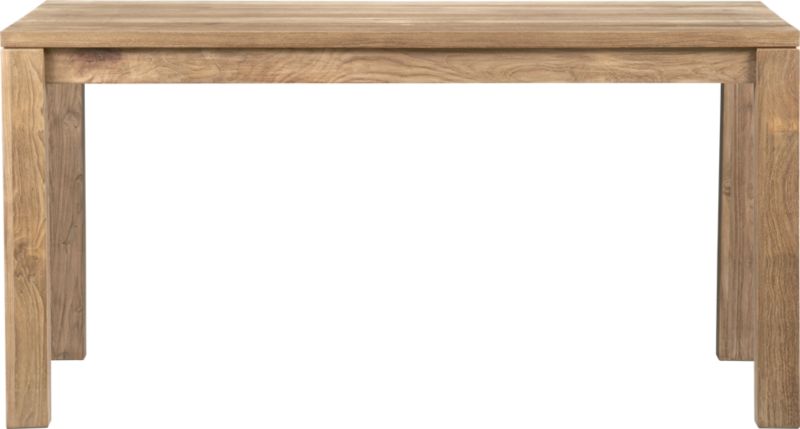 pacifica (solid teak)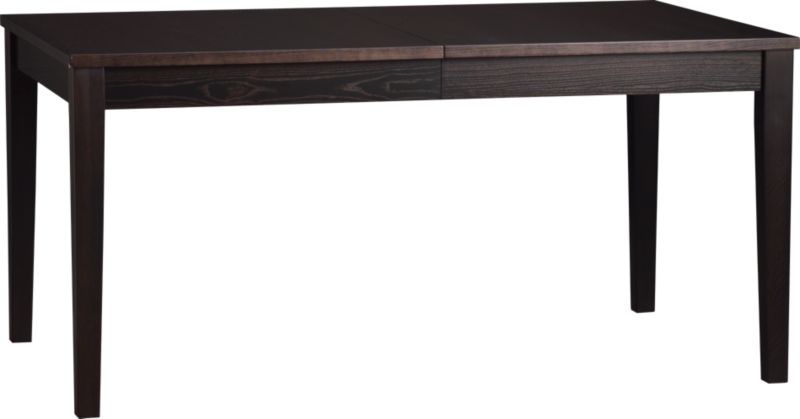 drake extension table (less enamored with this guy, but it's the only one that's an extension table)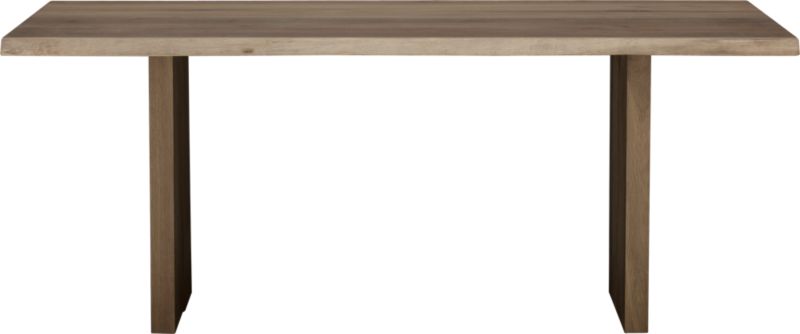 this one is a grand and a bit - but so nice! solid european white oak!

solid american walnut! over a grand, too (closer to 2).

the big sur - a little light coloured for my liking and also coming close to 2 grand.
the thing with the crate and barrel tables is that they're 99% all wood, whereas the super design-y king east ones are way more expensive AND they're particle board with veneer. so wack!
surprisingly, those school chairs i posted a while ago, are kind of cheap compared to regular dining chairs. adult sized ones average about $40 a chair and you know those mothers are built to last - plus they come in a wide range of colours. i like 'em.
okay that's enough outta me for one night.
fin.