wow. in my travels today i came across
this
article on john maynard keynes, who is like, the biggest comeback story of these credit crunch crisis times.  bigger than britney, kelly "i won't go running off at the mouth about clive davis anymore" clarkson, and pink's apparently resuscitated relationship with her dreamboat estranged hubby, carey hart. it's basically the expose of exposes. not only was he too much of a dirty bird to hang with virginia woolf and those other notorious bloomsbury libertines, but (according to the article) he had unlimited faith in the elite. choice quote: "he even wanted cambridge men to run america, because he didn't think anyone in the u.s. was smart enough." lol. "he also didn't like jews, the french or the working class." yikes! also, don't you find that a kind of weird grab-bag of groups to dislike? i do. that's like disliking "baha'i, samoans, and the petty bourgeoisie." actually, considering his (alleged) unwavering faith in the moral fortification of a cambridge education, his hit list kind of does seem fairly consistent.
the hat i knit my mom is too short. so i have to make her a new one. finished object satisfaction is at an all-time low over here at karl lagerfeld tricotage enterprises. my tudorian neck warmer that was supposed to be an overdue birthday gift doesn't look as nice as it should, i had to rip up the mittens i was knitting for someone else as another belated birthday gift, and now i've got to re-do my mom's hat. bogus. i feel like i've been knitting like crazy but have nothing to show for it. you know who wouldn't have this problem? a cambridge man, that's who.
today apparently is world nutella day.  we're not observing.  after work i went and practiced throwing and catching the dodgeball with c64 and his lady in the gym at his condo (technically, his gf's condo.)  then i came home and made one of my favorite pastas.  it's so easy, but so good (and i suspect, so fatty.)  it's rigatoni with spinach, mushrooms, and fontina and gorgonzola.  the original recipe had you throwing bacon in there...but i'm trying to resist dr. rei and bwong's exhortations to turn february into "biggie month."  plus, i'm feeling pangs from knowing that i've single-handedly consumed a quart of butterscotch pudding over the past 5 days.
i couldn't resist making myself some coconut tapioca pudding. it's a fine line between dessert and breakfast sometimes. tapioca pudding is
practically
red river cereal - the two are only separated by a slender thread of propriety. besides, all that milk is good for me bones.
thelonius monk's advice to saxophonist steve lacy (1960)
courtesy of eric alba's blog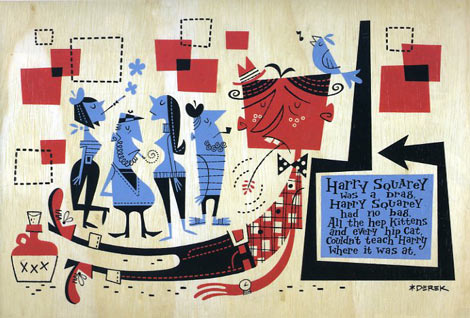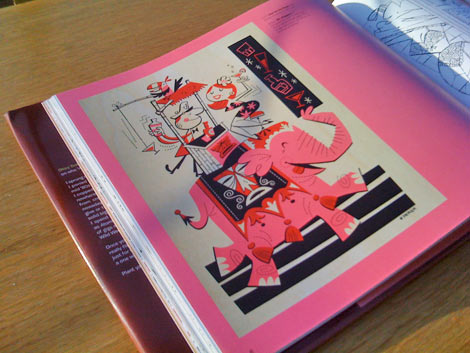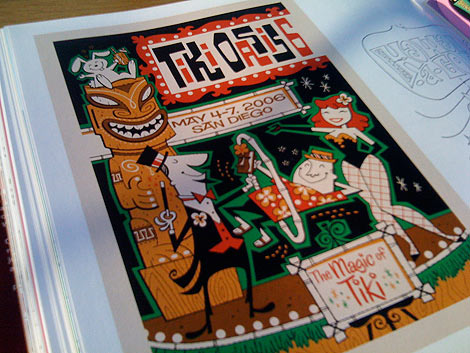 photos borrowed with gratitude from grain edit
the illustrations of derek yaniger, captured in the book "wildsville - the art of derek yaniger" i love love love these retro illustrations!!!! the colours and lines and forms are nostalgic and fresh at the same time with the bold, blocky compositions. they remind me of the tattered gold-spined books that i had as a kid, passed down from my sister and my mum, or, old disney cartoons from when i was a wee wee bobbin and they'd be satirizing beatniks (remember when people used to actually reference beatniks?!?) and really, who doesn't love a good tiki room? (not me and the b-52s, that's for sure!)
book cut sculptures from
su blackwell
, a uk artist. aren't they just so delightfully mysterious? there's a wildness to them that hints of the witching hour and the will o' the wisps that come out to cavort in the silvery, thin light of the moon. i love them.
we're nearing the end of "the tudors" season 1. what started as a mission for boobs and racy, cable tv, tarted up historical soft core has yielded a mildly interesting (though overlong) journey into the annals of history. let's just put it this way: we can't get through a whole episode without nodding off. there's too little happening to keep us interested and the endless scenes of courtly mincing tends to have a soporific effect.
fin.
------------------------------------------------
rigatoni w/ spinach, mushrooms, 2 cheeses
serves 4, main dishes
1 lb. rigatoni or other sturdy, short pasta
olive oil
1 onion, thinly sliced
4 cloves of garlic, minced
2 cello bags of spinach (approx. 1 lb), rough-chopped
1 lb of mushrooms (your choice), sliced
4 T. unsalted butter
200 g. fontina cheese, cut into smallish pieces
200 g. gorgonzola, crumbled
salt and pepper to taste
- cook the pasta in boiling salted water until al dente.
- heat the oil in a pan, sautee the onions, garlic until fragrant. add the spinach and mushrooms and sautee until caramelized and cooked through, turn off the heat.
- when the pasta is cooked, quickly drain it, then mix it with the diced cheese, the butter, and the spinach-mushroom mixture, stirring and tossing until the cheese is melted and coats the pasta.
- season to taste with salt and pepper.