the weekend ended up going out with a whimper - family stuff during the day and then at night maximum schluffiness on the couch with the dotytron. i'm doggedly trying to finish my now-horrifically backlogged xmas knitting, with no hope for resolution in sight. since i'm sure my nephew doesn't read my blurg, i can spoiler-alert and say that i'm knitting him a sweater that he BETTER LOVE AND CHERISH WITH EVERY ATOM IN HIS WEE LITTLE DOOSIER BODY. it's probably the biggest garment i've ever knit - mind you: i've been working in baby scale for my whole knitting career (2 years?) so moving up to small child scale is daunting. i also have something in mind for my niece but no hope in hell of having it done in time.
anyway, we ended up putting the kibosh on the dotytron's birthday dinner out for the time being, to be rescheduled at a later date. there was a storm coming in and we didn't feel like trekking out in the snow and we were super-full and stuffed from our 3 plates of food (or maybe that was just me) at the annual doty family christmas brunch thing, this year held at the weston golf and country club. the food was pretty awesome...big juicy breakfast sausages, a succulent ham, eggs benny, pancakes, waffles, scrambled eggs. probably one of the best doty family christmas brunch showings in a couple of years.  this is a pic of us at the brunch:
this is us with (from the left): beryl (pronounced - inexplicably - "burl"), nany and poppa. they're kind of the best. even if poppa is a staunch conservative. whatever i say or do, nany is unremittingly positive and supportive and thinks it's great.
this is us with (from left): uncle mert (short for merlin) aunt debbie, and mert's wife pat. mert and pat and nany and poppa are thick as thieves. mert and poppa are brothers but those four do everything together. they've traveled together, dine together frequently, and finish each other's sentences. uncle mert is very stylin' in a hep cat kind of way. he's a graphic designer who came up with inspector smartie. i've never actually
seen
inspector smartie, but he purportedly exists. however, a thorough search (read: google) does not retrieve any evidence. so inspector smartie's internet footprint is pretty minuscule (read: non existent, seemingly.) beryl has lead a crazy life too...she's sang on records and she's a fire cracker...i think she's 90? check out that outfit! she's sharp as a tack and really picante.
so we had a faux-celebratory dinner of popeye's - which is rapidly becoming the preferred caterer for all of me and the dotytron's major life moments. lol! but popeye's is rebranding! it's weird! now they're called popeye's louisiana kitchen - i was a bit disturbed, but it seems they've kept the core menu that we know and love (deep fried apple pie, spicy fried chicken, mashed po' with cajun gravy) and supplemented it with a knock-off of the kfc bowl (can't wait to try it!) and some wraps and stuff. as long as they don't mess with the chicken recipe, i'm perfectly happy.
so "the house bunny" was pretty decent, but i have this weird affinity for anna faris (the same way i have a weird affinity for james franco) - i find her so cute! and that movie poster cracks me up, as do lines such as: "the eyes...are the nipples of the face" lol! it was very insubstantial and formulaic but i find her very endearing.
now we're slogging through season 2 of "dexter." we don't love it, but we don't hate it, and we obviously like it enough to see it through. the addition of lila (pictured below) has done a lot to keep us interested as we both find her ferociously sexy and she adds a welcome note of raciness (especially when compared to dexter's primary love interest - the boring rita and her shrill kids.)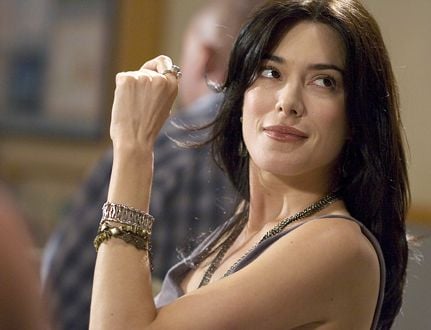 the dotytron also took it upon himself to download THE ENTIRE SERIES OF "HOUSE" which he tried to make me watch. we sat through one episode with me shooting daggers out of my eyes and the dotytron getting increasingly nervous and mouthing "sorry" to me as we sat through one of the BORINGEST shows of ALL TIME. it's SO SO SO boring! the worst! i kind of hate procedurals...so maybe dr. house and i aren't meant to get along, but even at that, i found it mind-numbing.
tonight is a pretty low-key night...i have to do some baking and some prep for my family's xmas trifle dessert. we're eating our way through the leftovers in the fridge slowly but surely (there's no point in cooking anything new!) i made two loaves of olive-thyme bread yesterday, the dotytron baked them off. here is how they turned out - no shots of the mie as they've been ear-marked for the farm next week and for the dotytron's family as part of their annual xmas food basket. tonight i'm also going to start two new loaves of the rosemary olive oil bread for the dotytron to bake off tomorrow. the dotytron make a booboo and didn't score the olive loaves. lest you think that such forgetfulness goes unpunished, i filled his shoes with sourdough starter. he's gotta learn!
anyway, i'm getting pretty amped for the holidays. 1.5 days to go!
fin.