here is a random loot bag of my opinions on the great debate-fest of aught 8. we watched the U.S. veep ones until the end and then switched over to catch the tail end of the canadian ones.
- gilles duceppe =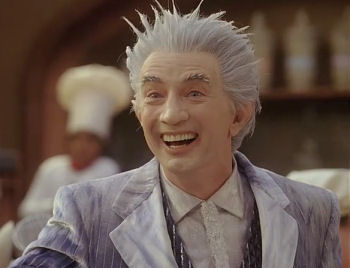 seriously. SEPARATED AT BIRTH.
- why was the canadian set anchored by a table shaped like a TOILET with a maple-leaf poo floating in the bowl?
- why was the canadian set so damn cheap?
- why was the canadian moderator allowed to rephrase, interrupt with his own questions, and put HIS words in the mouths of the candidates?
- why is jack layton such an opportunistic freak?
- biden DESTROYED palin. obliterated her. i was a little worried at first that he was going to alienate people by seeming overly intellectual (especially when palin kept appealing to soccer moms and main street americans) but for the most part his points were succinct, he remained on target and pointedly called her out on erroneous facts she spouted. i also liked how he numbered his points. plus his closing was SICK! there was a "god willing"! and tears welling! plus it was a hella catchy closer. he was pretty skillful at working in his own "middle american" background and drawing on his experience and kept his answers topical. overall, well played, biden, well played.
- palin answers questions like a pageant queen. she's semi-poised but totally glossy and vapid - it's a lot of words, no substance.
- the moderator in the u.s. debates was a PRO-star.
tonight for dinner i was supposed to be making an alsatian "pizza" (flammekueche). alsace is a region in france that borders germany and has its own kind of unique little culinary sub culture going on. it's basically pizza dough that you roll out really thin and top with a layer of creme fraiche mixed with a little tiny bit of ricotta (or quark or fromage frais) and top with bacon lardons, caramelized onion, and thyme. sounds tasty, right?
instead, heady with the knowledge that the house that i so desperately covet has dropped TEN THOUSAND DOLLARS in price and armed with a trusty newsfeed line that the housing market in toronto slowed 6% over last year, i made the counter-intuitive call that we go out for dinner, instead of taking the logical path, which would be that impending home ownership, however theoretical, should generally serve as an impetus for one's fiscal belt tightening.
in my defense, i received my gst rebate yesterday. AND i got a happy email from hr assuring me that the incremental climb i'd seen in my paycheques over the last 4 pay periods is legit. this was in response to a wary email i sent filled with trepidation that the $400
more
a month i had been making was some horrible, cruel, payroll mistake that i would get dinged for in one grand lump sum. it turns out i reached my cpp and ei maximums and now it's more in my pocket and my ing savings account. ta-da!
anyway, a couple of months ago, a shoddy thai restaurant on the danforth, mong kut thai opened an outpost near logan with the tell-tale table-top grills that bespeak korean bbq all you can eat. this was going to be a thai iteration of the formula. pretty intriguing, right? how can you go wrong with piles of meat, right? WRONG! we sat down and were presented with plates of poorly cut, gristle-flecked, UNMARINATED (!!!!!) meat served in the de rigeur little plastic dishes but without the usual all-you-can-eat (ayce) exuberance. instead, 4 little forlorn, sinewy and canada grade b pieces crowded together on the plates with more negative space than modern typographic design. ai. the unmarinated part made it even worse. eating cheap meat without the benefit of ANY flavouring (salt! pepper! soy! MSG!!!) is unforgivable and makes you feel bad about yourself. so we asked for our bill and left, still hungry. but i wasn't about to sit through an irredeemable meal.
so we ended up at dangerous dan's (where we should have gone in the first place). ran into frankie gunns. came home, i started working on my new knitting project (
thrummed mittens
- inspired by the combined pull of the following: desire to learn a new skill [thrumming, mitten knitting]; to make something quick; to make something for MYSELF for a change; and to have warm toasty fingies after the biting chill of today's walk to the subway), and we watched the new food network show by the au pied du cochon chef and caught up on "gossip girl." bliss.
fin.