it's really hard to explain how much i love small-town america, and specifically, the area just outside of rochester. for me and the dotytron, that and the cottage are the ultimate vacation destinations, your go-to happy place, where you know you're not going to be required to do a single thing except eat, find a comfy spot on the couch, and hang. even though the dotytron took some extra time off of work and we left toronto at 3:30 in the afternoon, we hit rush hour long weekend traffic, and it took us almost 2 hours just to get to hamilton. it was really trying. luckily, we had the best of heart to keep us company. oooooh barracuda! the lead singer of heart (i forget which wilson it is) is beyond awesome. she can belt it, but it never sounds shrill.
so i ate my beloved dinosaur bbq which was predictably delicious. we also ate at this place called "red robin", where they specialize in burgers. delicious, fatty burgers and bottomless fries, and the best damn onion rings i've ever eaten.
my only complaint is that i didn't like the fact that they put sprinkles on my milkshake. i'm a milkshake purist. we also picked up slices of cheesecake from "the cheesecake factory". unf! so effin' good. creamy and rich and light and flavourful (and at $5 a slice, overpriced, but hella tasty). i love america!
we availed ourselves of my sister's netflix subscription and watched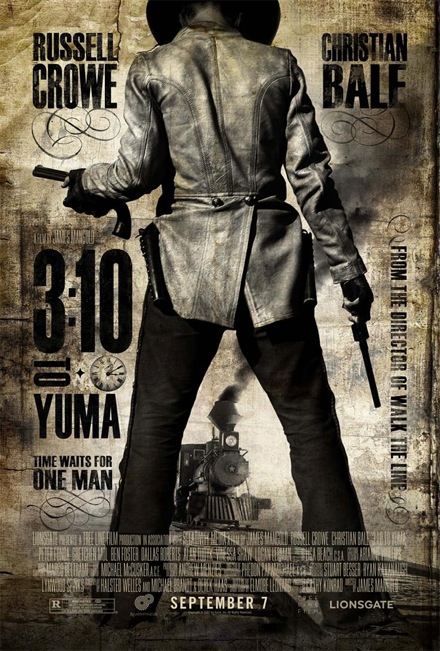 3:10 to yuma
which had the singular distinction of a) making me enjoy the western as a genre and b) make me like russell crowe (whom i usually dismiss as being too florid and hungover-puffy for my personal taste). putting him and christian bale together on screen is magic. the film maintains a fantastic pace, allowing the characters to unfold while keeping a sense of urgency filtering through the tension of the story - it was a finely tuned balance between action and character, and both actors fully inhabit their roles, with crowe really amping up his rapscallion, roguish charm (heretofore completely unnoticed by me). i liked it way more than
unforgiven
which was a bigtime snoozefest.
the bad thing about eating in the states is that we barely ever touch a fresh vegetable, unless you're counting the onion in the onion rings, tomatoes in my ketchup, and hot peppers that were once a part of my buffalo wing sauce. i came home craving vegetable matter which i rectified by making a wild (read: supermarket definition of "wild" - ergo, shitake and oyster) mushroom risotto with porcinis, and that radicchio, fennel, parsley, and romano bean salad dressed with lemon juice, olive oil, and fleur de sel. it was just the ticket.
i feel like i might be coming down with a cold (that's what a weekend spent with a snot-fountain of a nephew will do to you), which is crappy and is making me feel tremendously unmotivated to tackle the mountain of "getting-ahead-during-reading-week" homework i had set aside for myself. all i want to do is curl up with
the wire
season 2 and knit knit knit.
fin.