is one of the best songs ever. and i'm not terribly ashamed to admit it. it's got everything! as soon as i hear it, i want to dance, herbie hancock is on it, and lady miss kier is totally cool. also, it prominently features the slide whistle, one of my favorite instruments, and the only one i (perhaps misguidedly) think i would show some mastery of (aside from the awesome instrument of MY MIND, of course). so catchy!
another song that i'm in love with right now and have been for a while, is tommy james and the shondells "crimson and clover", the extended album cut with the extended wah-y guitar solo. it's got everything! i love songs that sound like late 60s doo-wop spring fling slow dance numbers. and then this one adds in the guitar solo that's all surfy and head trippy AND the tremolo vocal effect at the end. love!!!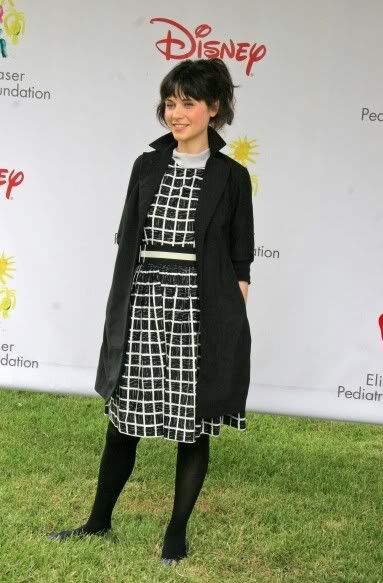 i've decided that zooey deschanel is my new style icon. it's been going in that direction for a while, but i decided to make it official. i've also decided that i'm going to continue my muu-muu obsession from last summer by grabbing as many trapeze dresses and vintage muumuus i can. i'm also really into the whole jumper/smock thing (in line with the shape i'm going for). i just wish i wasn't working/riding my bike all the time so that i could wear skirts and tights more often. sigh.
this post is way femme-y. the elk burgers were pretty good. elk tastes like beef times a billion...the meat has a very particular density, giving it a bouncey chewiness that you don't get with our corn fed and lethargic beef. i don't know if a burger is the right medium for it, necessarily.
tonight we're having that tuna noodle casserole from a few posts back. it already looks scrum-delish. i topped it with little cubes of challah tossed in melted butter...it's going to be the crunchiest, goldenest, yummiest casserole crown ever. we're having it with a salad.
fin.